Deciding to become a private investigator is a unique and interesting career choice where each day offers a new experience. Private Investigators meticulously collect and document evidence for their clients. Their clients may be businesses, lawyers or individuals, and they may need evidence to prove theft, find a missing person or uncover infidelity.
When researching how to become a private investigator in Wisconsin, the state requires anyone wishing to become a private investigator to apply for a license through the state's Department of Safety and Professional Services. The state also requires that private investigators be employed by a licensed Wisconsin private detective agency. PI's can only work for themselves if they receive a private detective agency license, as opposed to an individual license.
Wisconsin Private Investigator License Requirements
Minimum Requirements
Age: Wisconsin requires private investigators to be at least 18 years old.
Provisional Requirements: Private investigators need to be citizens of the United States or qualified aliens and nonimmigrants lawfully present in the U.S.
Criminal Background Check: Wisconsin requires all private investigators to undergo a fingerprint-based background check. You must submit your application within 14 days of submitting your fingerprints.
Military Discharge: Certain veterans may be eligible for fee waivers and experience equivalency. If your discharge was because of a crime, you'll need to include information about the crime in the Convictions and Pending Charges Form.
Financial History: Wisconsin does not require your financial history.
Mental Health Evaluation: Wisconsin does not require a mental health evaluation.
Insurance Needed: Your employment agency should have liability insurance to cover you. If they have a liability bond instead of insurance, you will need to obtain a $2,000 liability bond for yourself to submit with the Bond of Private Detective or Private Detective Agency Form.
Automatic Disqualifications: You cannot become a PI in Wisconsin if you've been convicted of a felony.
Find schools and get information on the program that's
right for you.
(It's fast and free!)
Featured Schools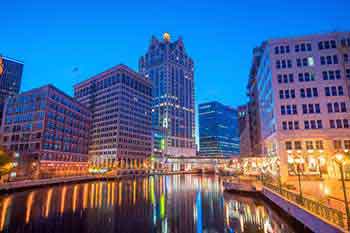 Education and Experience
Degree: You do not need a degree to be a PI in Wisconsin, but you do need to have a high school diploma.
Experience: Wisconsin does not require you to have prior experience to become a PI.
Written Exams: You must pass an exam that covers Wisconsin Statutes, Administrative Code and investigative practices.
Training Courses: Wisconsin does not require that you take training courses before you become a PI. However, you will need to educate yourself on the exam material in order to pass it.
Discover online private investigator programs in Wisconsin that are a match for you!
Forms Needed for a Private Detective License in Wisconsin
Fees Required: The application fee is $75.00, and the exam fee is $127.00. If you submit your fingerprints digitally, the fee is $39.25.
Registration Needed: Wisconsin requires that private investigators obtain licenses from the Department of Safety and Professional Services.
Maintaining Your PI License: You must renew your license by August 31 of the next even-numbered year after your receive your initial license. Renewal involves paying the appropriate fees, undergoing another criminal background check, your signature regarding prior criminal convictions, arrests or charges and continual employment at a licensed PI agency.
Wisconsin Private Investigator Salary
As of May 2015, the average yearly salary for private investigators in Wisconsin is $41,650 according to the United States Bureau of Labor Statistics. The majority of the PIs in Wisconsin are in the Milwaukee area, and their annual salary is $43,300. The Employment Projections Program estimates that there will be ten new PI positions opening each year between 2014 and 2024.
Helpful Wisconsin Links and Resources
Department of Safety and Professional Services PI License Information
Information about the Examination
Private Investigator Programs and Schools in Wisconsin
Get Your Degree!
Find schools and get information on the program that's right for you.
(It's fast and free!)
Choose your area of study and receive free information about programs you are interested in. Private investigators are used by law firms, law enforcement, insurance companies, as well as individuals to conduct investigations to build criminal and civil cases. A degree related to criminal justice could benefit an aspiring private investigator greatly. Request information from multiple schools to find the best program and educational opportunity for you!