Private investigators employ a variety of legal methods to uncover information that their clients need. Their clients may be individual citizens, or they may be lawyers or businesses. Investigative methods include performing interviews, conducting surveillance, computer forensics, and collecting evidence to present in a court, among others.
When studying how to become a private investigator in West Virginia, you should know, like most states, WV requires its private investigators to obtain a license. The Secretary of State issues the license after you complete all the necessary application steps and your application is approved.
West Virginia Private Investigator License Requirements
Minimum Requirements
Age: Applicants need to be 18 years of age or older to become private investigators in West Virginia.
Provisional Requirements:

West Virginia requires that you be either a U.S. citizen or a legal resident of the U.S.
You must also be of good moral character and provide five letters of character reference with your application.
You also need to submit two passport-size color photographs of yourself taken within the past year.

Criminal Background Check: West Virginia requires a fingerprint-based background check.
Military Discharge: Your military discharge is not taken into consideration when you apply for a PI license, unless your discharge was related to a criminal offense.
Financial History: Your financial history is not taken into account when you apply for a PI license. However, you may need to provide information about your finances when you apply for a business license after your PI application is accepted.
Mental Health Evaluation: While a mental health evaluation is not a part of the licensure process, you will not be able to receive a license if a court ruled that you are incompetent due to a mental illness.
Insurance Needed: Part of your application involves obtaining and notarizing a surety bond in the amount of $2,500 that names you as the principal.
Automatic Disqualifications: West Virginia's list of actions that warrant automatic disqualification is extensive. The list includes being convicted of a felony in any U.S state or territory, addiction to narcotics, habitual drunkenness, revocation or denial of a previous PI license, and more.
Find schools and get information on the program that's
right for you.
(It's fast and free!)
Featured Schools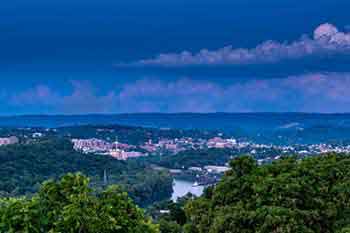 Education and Experience
Degree: You do not need to obtain a degree to become a PI in West Virginia. However, obtaining a degree in a related field such as criminal justice, law enforcement or criminal investigation is one way to fulfill the training and experience requirements. Even if you did not complete your degree, the amount of applicable academic hours can be combined with other experience to fulfill the requirement.
Experience: Instead of a degree, you can fulfill the experience requirement by providing proof of prior employment with a licensed investigative firm or law enforcement agency. You must have been employed at least 32 hours a week for 100 weeks for your work experience to fulfill the training and experience requirements.
Written Exams: While your degree or training courses may require you to take written exams, there is no specific written exam required to become a PI.
Training Courses: If you have neither a degree nor prior employment experience, you can also complete at least 60 hours of credit in investigative studies. If you already have some academic and employment experience, you may choose to only take the number of credit hours in investigative studies that you need to fulfill the requirement.
Discover online private investigator programs in West Virginia that are a match for you!
Forms Needed for a Private Detective License in West Virginia
Fees Required: The application fee for WV residents is $150. The fee for non-residents is $550.
Registration Needed: West Virginia requires private investigators to apply for a license through the Secretary of State.
Maintaining Your PI License: You must renew your license annually. If you fail to renew your license within one year and wish to continue working as a PI, you must reapply as a new applicant.
West Virginia Private Investigator Salary
The U.S. Bureau of Labor Statistics doesn't provide salary data for private investigators in West Virginia specifically. The national average salary for PI's is $45,610 as of May 2015. The Employment Projections Program predicts that employment will increase 5% and that 1,800 new PI positions will become available between 2014 and 2024.
Helpful West Virginia Links and Resources
Secretary of State Information on PI Licensure
Applying for an Individual PI License
List of Acceptable Experiences to Fulfil the Requirement
Private Investigator Programs and Schools in West Virginia
Get Your Degree!
Find schools and get information on the program that's right for you.
(It's fast and free!)
Choose your area of study and receive free information about programs you are interested in. Private investigators are used by law firms, law enforcement, insurance companies, as well as individuals to conduct investigations to build criminal and civil cases. A degree related to criminal justice could benefit an aspiring private investigator greatly. Request information from multiple schools to find the best program and educational opportunity for you!