When individuals, companies, and government institutions in Vermont need to find important information, they will hire a private investigator. Whether you work independently or for a private investigation agency, your career as a private investigator will be focused on such tasks as locating stolen property, investigating criminal threats or violent actions, pursuing fraud cases, and collecting evidence for legal proceedings.
When researching how to become a private investigator in Vermont, you should know that private investigators are licensed by the Vermont Secretary of State. First, you will need to receive a temporary license so that you can receive training, after which you will be eligible to earn your full licensure.
Vermont Private Investigator License Requirements
Minimum Requirements
Age: 18 years or older.
Provisional Requirements: A legal resident of the United States or a U.S. citizen.
Criminal Background Check: You will need to submit to a criminal background check before you will receive a license for private investigation.
Discharge from Military: Dishonorable military discharges will not count against you when applying for a private investigator license in Vermont.
Financial History. A check of your financial history is not mandatory to be approved for a license.
Mental Health Check/Mental Disease or Defect: Mental defects or disease will not be taken into account during the license application process.
Insurance Needed: Individual private investigators are not required to carry insurance in order to be licensed.
Automatic Disqualifications: You must be in good standing in terms of child support court fines, taxes and the judicial bureau. If you have outstanding payments in any of these areas, you will need to make restitution before you will receive a license.
Find schools and get information on the program that's
right for you.
(It's fast and free!)
Featured Schools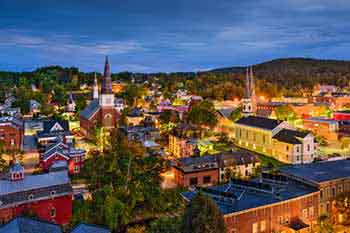 Education and Experience
Degree and/or Accepted Experience: Vermont requires that you have two years of investigative experience under the direct supervision of a licensed investigator. However, if you have at least two years of work experience as a law enforcement officer, you will have already satisfied this requirement.
Written Exams: Vermont does not have a written exam for private investigators.
Vermont Private Investigator Training
Vermont issues temporary licenses while applications are awaiting full approval. During this period, you will be required to participate in mandatory training that has been approved by the licensing board. This training must total forty hours and will include topics such as taking statements, collecting evidence, writing reports, investigation tools, legal limits, ethical/professional conduct and writing reports.
Discover online private investigator programs in Vermont that are a match for you!
Forms Needed for a Private Detective License in Vermont
Fees Required: You will need to pay a $60 fee for your temporary license. For your full license, you will need to pay $150 if you plan to be unarmed or $200 if you plan to carry a firearm.
Registration Needed: When you apply for your temporary licensure, you will need to include a 2-inch by 2-inch photograph and complete both an FBI background check and a Vermont Criminal Information Center background check. Once you have completed and can provide proof of your training, have paid your full license fee and your background checks have been approved, you will receive your license.
Maintenance Required for PI License: Licenses must be renewed biennially. Unarmed renewals cost $120 and armed renewals cost $180.
Vermont Private Investigator Salary
While the Bureau of Labor Statistics (BLS) collects employment information for private investigators in the majority of states, there is no information available for the state of Vermont. However, it can be helpful to examine the BLS information for private investigators at the national level.
In May of 2015, the BLS reported that the median pay for a private investigator was $45,610. Additionally, private investigation positions were expected to grow at a rate of 5%, translating to 1,800 new positions.
Links to State Government Pages or Other State Resources
Vermont Private Investigative & Security Services
BLS Private Investigator Statistics
Vermont Association of Investigative & Security Services
Private Investigator Programs and Schools in Vermont
Get Your Degree!
Find schools and get information on the program that's right for you.
(It's fast and free!)
Choose your area of study and receive free information about programs you are interested in. Private investigators are used by law firms, law enforcement, insurance companies, as well as individuals to conduct investigations to build criminal and civil cases. A degree related to criminal justice could benefit an aspiring private investigator greatly. Request information from multiple schools to find the best program and educational opportunity for you!