As with every other state across the country, private investigators in Utah are tasked with searching out vital, hard to find information for their respective clients. Typical investigative tasks of a PI can include locating culprits involved in violent offenses, gathering evidence to be used by police officers or lawyers, investigating infidelity, and helping businesses detect fraud committed by their employees.
When looking into how to become a private investigator in Utah, you should keep in mind that Utah is similar to most states in that it requires private investigators to become licensed before they can offer services. Earning a license in Utah requires following the regulations maintained by the Bureau of Criminal Identification (BCI) and submitting the proper documentation.
Utah Private Investigator License Requirements
Minimum Requirements
Age: Applicants for a private investigator license must be over the age of 21.
Provisional Requirements: In addition to being legally eligible to work in the United States, you will need to be a resident of the state of Utah to be granted a license.
Criminal Background Check: Utah requires its private investigators to have good moral character, which is established through a criminal background check.
Discharge from Military: A candidate's military service record will not be used to prevent licensure, even if the candidate was dishonorably discharged.
Financial History: Proof of your financial history and/or standing is not required to receive a private investigator license in the state of Utah.
Mental Health Check/Mental Disease or Defect: The mental health of an applicant is not taken into consideration.
Insurance Needed: You must have the ability to purchase a surety bond worth at least $10,000.
Automatic Disqualifications: There is nothing that will automatically disqualify you from becoming a licensed Utah private investigator.
Find schools and get information on the program that's
right for you.
(It's fast and free!)
Featured Schools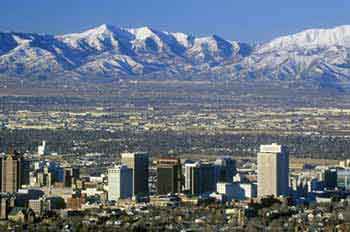 Education and Experience
Degree and/or Accepted Experience: To become a fully licensed investigator in Utah, you must have acquired at least 2,000 hours of investigative experience. Many prospective investigators will apply for an apprentice license and then gain this experience by working in a licensed private investigation agency.
Written Exams: Utah does not require private investigators to take a written exam to become licensed.
Utah Private Investigator Training
Due to the 2,000-hour work experience requirement, the majority of Utah private investigators will receive career training while on the job. However, other potential investigators will first choose to complete a degree in a field related to investigation. Common degrees for private investigators to pursue include forensics, political science, law, investigation practices, and criminal justice. Law enforcement training can also prepare you for this career.
Discover online private investigator programs in Utah that are a match for you!
Forms Needed for a Private Detective License in Utah
Fees Required: There is a $127 licensing fee that you must pay before you will receive your license. Also, you must pay $16.50 for your fingerprinting/background check.
Registration Needed: If you have met the minimum requirements and completed 2,000 hours of work experience, you can apply to the Utah Bureau of Criminal Identification. A recent color photo, a completed fingerprint card, a copy of your surety bond, and work experience verification should be included with your application. Approval can take up to 90 days.
Maintenance Required for PI License: When your license is set to expire, you will need to pay the BCI a $65 renewal fee to make sure your license remains in good standing.
Utah Private Investigator Salary
Utah is one of the most competitive locations for private investigators as evidenced by the small number of people in this career. In 2015, the Bureau of Labor Statistics reported that there were 80 working Utah private investigators. Annual payment for a private investigator in Utah averages $52,330.
Links to State Government Pages or Other State Resources
Utah Bureau of Criminal Identification Private Investigator Licensing
Private Investigator Bureau of Labor Statistics Data
Private Investigators Association of Utah, Inc.
Private Investigator Programs and Schools in Utah
Get Your Degree!
Find schools and get information on the program that's right for you.
(It's fast and free!)
Choose your area of study and receive free information about programs you are interested in. Private investigators are used by law firms, law enforcement, insurance companies, as well as individuals to conduct investigations to build criminal and civil cases. A degree related to criminal justice could benefit an aspiring private investigator greatly. Request information from multiple schools to find the best program and educational opportunity for you!