The perfect career for citizens in South Dakota who enjoy intense research and investigation is that of a private investigator. The main duty of a private investigator is finding information requested by their client, which can be discovering the source of fraud in a company, identifying a person sending criminal threats, and providing evidence for legal cases.
South Dakota is one of the very few states that does not require a license to work as a private investigator. However, the state does require that anyone providing private investigator services obtain a business license.
South Dakota Private Investigator License Requirements
Minimum Requirements
Age: Be over the age of eighteen.
Provisional Requirements: Only US citizens or legal aliens are eligible to do business in the state of South Dakota.
Criminal Background Check: You may be required to undergo a background check before your business license will be granted.
Discharge from Military: Your military service record will not be examined when you apply for a business license in South Dakota.
Financial History: A financial check may be required depending on what type of business you are registering. For example, if you form an LLC, a check of your financial standing is almost always required.
Mental Health Check/Mental Disease or Defect: A check of your mental health is not required to obtain a business license in South Dakota.
Insurance Needed: You will usually need some level of insurance coverage when operating a business, including working as a private investigator. Typically, you would purchase enough liability insurance to cover property damage and personal injuries.
Automatic Disqualifications: There are no automatic disqualifications for working as a private detective in South Dakota.
Find schools and get information on the program that's
right for you.
(It's fast and free!)
Featured Schools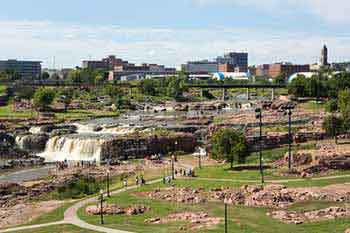 Education and Experience
Degree and/or Accepted Experience: In South Dakota, you do not need a degree or work experience to become a private investigator. However, if you want to improve your likelihood of success, you should consider working in a private investigator agency or obtaining a degree before attempting to offer your own investigative services.
Written Exams: You do not need to pass any form of written exam to work as a private investigator in South Dakota.
South Dakota Private Investigator Training
Many private investigators prefer to engage in on-the-job training, learning to handle investigations as they go. Private investigators who are serious about successful careers, on the other hand, will complete a degree program in a discipline related to private investigation. Several degrees are closely related to the work that you will do as a private investigator, including criminal justice, legal doctrine, political science, forensics, and investigation.
Taking the time to complete a degree before becoming a private investigator will make you more attractive to clients and can improve your investigation success rate.
Discover online private investigator programs in South Dakota that are a match for you!
Forms Needed for a Private Detective License in South Dakota
Obtaining a Business License: You must have a business license to work as a private investigator in South Dakota. Most aspiring PIs will obtain a license for sole proprietorship, although some will form an LLC. LLCs are registered with the Secretary of State; sole proprietorships file with the county Register of Deeds. After LLC approval, you will secure an IRS tax ID. All businesses must register with the Unemployment Tax Unit.
Sales Tax: Private investigators in South Dakota are required to charge a 4% sales tax rate for their services, which requires a license to charge sales tax from the department of revenue. You will also need to comply with whatever additional taxes are outlined in the municipality where you operate.
South Dakota Private Investigator Salary
No data is made available by the Bureau of Labor Statistics for South Dakota private investigators. The annual pay rate for PIs across the nation in 2015 was $45,610. There are expected to be 1,800 new private investigator positions created nationwide between 2014 and 2024.
Links to State Government Pages or Other State Resources
South Dakota Department of Revenue
Private Investigator Career Information by the BLS
Private Investigator Programs and Schools in South Dakota
Get Your Degree!
Find schools and get information on the program that's right for you.
(It's fast and free!)
Choose your area of study and receive free information about programs you are interested in. Private investigators are used by law firms, law enforcement, insurance companies, as well as individuals to conduct investigations to build criminal and civil cases. A degree related to criminal justice could benefit an aspiring private investigator greatly. Request information from multiple schools to find the best program and educational opportunity for you!