When you watch crime dramas on television, it looks like the system goes straight from arrest to court. The truth is far more complex. Attorneys and police have to spend a great deal of time building a case, and it requires a lot of work and preparation. Having enough information to make an arrest is a different thing from being able to prove charges in court.
Likewise, those who are arrested have a big job in proving reasonable doubt to beat the charges. When it comes to researching and gathering facts, there are few options better than a private detective. That's why many attorneys and law enforcement use private investigator trial preparation efforts.
Find schools and get information on the program that's
right for you.
(It's fast and free!)
Trial Preparation
When the time comes to gather and collate materials for a hearing or trial, the goal is to paint a clear picture of the facts involved in the lawsuit. The specific tasks for this process may differ, but the right preparation is vital to winning a case, and can include gathering raw evidence, conducting forensic investigations, analyzing and collating evidence, interviewing witnesses, preparing reports and a variety of other efforts.
Private Investigator Trial Preparation
The goal of trial preparation is to create a story, draw lines from points A to B to C, and give the judge and jury a clear picture of what happened, as well as to protect against counterattacks that seek to punch holes in the story. This means whichever side knows the story better is likely to win.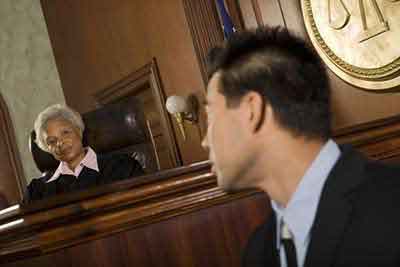 Private investigator trial preparation efforts see P.I.s working with their client to provide additional evidence, witness interviews, and logical deductions to shore up the story. As attorneys prepare witnesses and arguments and put together the pieces, a P.I. can provide valuable services in gathering further evidence, which can be time-consuming.
What Private Detectives Do for Trial Prep
There are a number of ways that detectives can help with trial prep services. They can locate witnesses, from those who have dropped off the radar or aren't known to the client, to experts capable of testifying on the specifics of a given field. These can be forensic scientists, surgeons, historians or any other expert that can help the case.
They can conduct background checks to verify the qualifications and reliability of witnesses. They can perform financial or asset investigations to turn up details of money trails or property issues. They might perform surveillance or computer investigations. Any kind of search, surveillance, or fact-finding and gathering that might be needed, a P.I. excels at performing.
If you think the idea of solving mysteries and pursuing or defending criminal charges by finding people, gathering facts and using deductive reasoning sounds like a rewarding career, you might be perfectly suited to become a private detective. Private detectives make a living using their perception, wits and logic to solve difficult problems for a variety of clients. If this sounds like a fulfilling career to you, read over the requirements and steps you'll need to take to become a private investigator in your state today.
Online Criminal Justice and Private Investigator Programs
Get Your Degree!
Find schools and get information on the program that's right for you.
(It's fast and free!)
Choose your area of study and receive free information about programs you are interested in. Private investigators are used by law firms, law enforcement, insurance companies, as well as individuals to conduct investigations to build criminal and civil cases. A degree related to criminal justice could benefit an aspiring private investigator greatly. Request information from multiple schools to find the best program and educational opportunity for you!