Pennsylvania is a state known for its independence, and this includes how it licenses private investigators working in the state. Contrary to how things are done in most states, Pennsylvania private investigators will be licensed by the county they work in, not the state. If you're interested in a career recouping stolen property, tracking down missing people, helping businesses combat fraud, and finding evidence for court cases, private investigation is for you.
By following the rules for private investigators in Pennsylvania and registering with the Clerk of Courts in your county, you can work as a private investigator in this state.
Pennsylvania Private Investigator License Requirements
Minimum Requirements
Age: Applicants must be 25 years of age or older.
Provisional Requirements: Only US citizens can be licensed as a private investigator in Pennsylvania.
Criminal Background Check: To become a Pennsylvania private investigator, you will need to submit your fingerprints and undergo a background check. Applicants with felony charges on their record are not eligible to receive licenses.
Discharge from Military: Pennsylvania allows those with dishonorable military discharges to be licensed as private investigators.
Financial History: A person's financial history has no influence on whether they can receive a private investigator license in Pennsylvania.
Mental Health Check/Mental Disease or Defect: Mental health checks are not performed on prospective private investigators in this state.
Insurance Needed: All private investigators in Pennsylvania must be capable of securing a $10,000 surety bond.
Automatic Disqualifications: Pennsylvania has several disqualifying issues for private investigators. Crimes involving illegally entering a building, assault, picking pockets, terroristic threats, building or owning burgling tools, illegal use or possession of a dangerous weapon, reckless endangerment, solicitation, possession or distribution of narcotics and aiding a prison escape make you ineligible for a license.
Find schools and get information on the program that's
right for you.
(It's fast and free!)
Featured Schools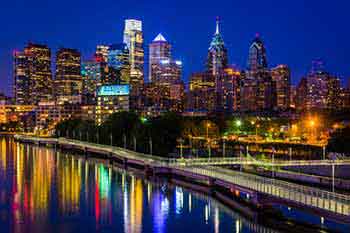 Education and Experience
Degree and/or Accepted Experience: Education related to private investigation is not required before licensure in Pennsylvania, although work experience is. Before submitting your license application, you will need either three years of experience working in a detective agency or three years of experience as a law enforcement officer at a higher rank than a patrolman.
Written Exams: Private investigators in Pennsylvania are not required to take an exam before being licensed.
Discover online private investigator programs in Pennsylvania that are a match for you!
Pennsylvania Private Investigator Training
Like many states, Pennsylvania does not certify training courses for aspiring private investigators. Fortunately, many degree programs are very useful to the profession. Whether you pursue an associate's or bachelor's degree, completing a program in political science, computer forensics, investigative practice or law can help you become a more effective private investigator.
Forms Needed for a Private Detective License in Pennsylvania
Fees Required: The individual license fee for private investigators in Pennsylvania is $200.
Registration Needed: Pennsylvania licenses private investigators at the county level instead of the state level. You will submit an application with the Clerk of Courts in the county in which you plan to practice. Applications must contain two passport photographs, five-character reference letters from people who have known you for at least five years, your fingerprint cards, and a surety bond. Licenses are usually processed within ten days.
Maintenance Required for PI License: You may be required to periodically renew your license with the Clerk of Courts. However, no continuing education is required to maintain your Pennsylvania private investigator license.
Pennsylvania Private Investigator Salary
The Bureau of Labor Statistics is responsible for collecting employment and salary data for a variety of professions, which includes private investigators. According to their most recent report published in 2015, Pennsylvania was home to 1,380 employed private investigators. Private investigators operating in Pennsylvania can expect an average salary of $45,390 per year.
Links to State Government Pages or Other State Resources
Pennsylvania Statutes for Private Investigators
Private Investigator Career Profile
Pennsylvania Association of Licensed Investigators
Private Investigator Programs and Schools in Pennsylvania
Get Your Degree!
Find schools and get information on the program that's right for you.
(It's fast and free!)
Choose your area of study and receive free information about programs you are interested in. Private investigators are used by law firms, law enforcement, insurance companies, as well as individuals to conduct investigations to build criminal and civil cases. A degree related to criminal justice could benefit an aspiring private investigator greatly. Request information from multiple schools to find the best program and educational opportunity for you!