Private investigators are one of the most important professions in Oregon. When information or people are hard to find, Oregon citizens and businesses turn to private investigators for assistance. A typical private investigator is responsible for such tasks as locating missing persons, performing background checks, finding the source of fraud, and investigating stolen property, criminal threats, and violent offenses.
Prospective private investigators in Oregon will need to meet the standards constructed by the Department of Public Safety Standards and Training to become a licensed provisional investigator, which is what this state calls private investigators.
Oregon Private Investigator License Requirements
Minimum Requirements
Age: An Oregon private investigator must be over the age of 18.
Provisional Requirements: You must be legally eligible to work inside the United States, whether as a citizen or a legal alien.
Criminal Background Check: Private investigators in Oregon are required to be of good moral character and must submit to a fingerprint background check.
Discharge from Military: A military discharge, whether honorable or dishonorable, will not affect your private investigator license.
Financial History: A check of your financial history and/or standing is not part of the application process in Oregon.
Mental Health Check/Mental Disease or Defect: Applicants for private investigator licensure in Oregon do not have to undergo psychological examination.
Insurance Needed: You will need either a $5,000 surety bond or a $5,000 errors or omission insurance policy to receive a private investigator license.
Find schools and get information on the program that's
right for you.
(It's fast and free!)
Featured Schools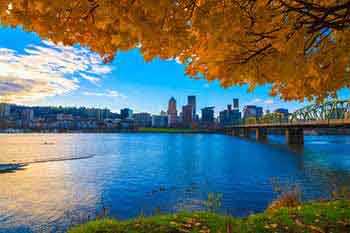 Education and Experience
Degree and/or Accepted Experience: Oregon requires 1500 hours of investigative experience before you will be licensed as a private detective. You can gain this experience by working in an investigative agency, during a private investigator apprenticeship, or through an approved course of study.
Written Exams: You will need to schedule and sit for a private investigator competency exam before being granted a license. A passing score is 86% or higher. You can take the exam three times, but if you do not pass the exam you will have to wait a year before you will be eligible for a retake.
Oregon Private Investigator Training
The Oregon Department of Public Safety Standards and Training (DPSST) offers training through its Private Investigator Program. In addition to maintaining professional standards for private investigators, the Program offers training to assist applicants in meeting these standards. In addition to receiving training through the Program, many investigators will earn degrees in related disciplines like forensics, political science, investigation, and criminal justice.
Discover online private investigator programs in Oregon that are a match for you!
Forms Needed for a Private Detective License in Oregon
Fees Required: Several fees are necessary to be licensed in Oregon. You will need to pay a $550 license fee, $29 for your background check and exam, and a $41.75 fee for your state and national criminal history check.
Registration Needed: With your completed license application, you will need to include documentation required by the DPSST. This documentation includes surety bond proof, three character references from non-relatives, two passport photos that were taken in the last six months, a signed Code of Ethics form, and your fingerprints. After your application has been approved and you've passed the exam, you will be licensed.
Maintenance Required for PI License: Oregon private investigators licenses last for two years, after which you will need to apply for renewal. You will need to submit a renewal form, pay a $550 renewal fee, submit new passport photos and provide proof of 32 hours of continuing education, two hours of which must be dedicated to ethics.
Oregon Private Investigator Salary
Oregon is one of the few states where the Bureau of Labor Statistics has not collected information for private investigation. The average pay for private investigators across the country is $46,610 a year, and the profession is expected to add 1,800 jobs between 2014 and 2024.
Links to State Government Pages or Other State Resources
Private Investigator Programs and Schools in Oregon
Get Your Degree!
Find schools and get information on the program that's right for you.
(It's fast and free!)
Choose your area of study and receive free information about programs you are interested in. Private investigators are used by law firms, law enforcement, insurance companies, as well as individuals to conduct investigations to build criminal and civil cases. A degree related to criminal justice could benefit an aspiring private investigator greatly. Request information from multiple schools to find the best program and educational opportunity for you!