In the state of Ohio, a private detective or private investigator can be found at just about any level of society performing an incredibly diverse range of functions. They might help local law enforcement with fugitives. They might conduct corporate background searches. They might investigate witnesses for legal trials. They might solve missing persons cases for individuals.
The one thing every one of their duties has in common is that private eyes are perceptive, detail-oriented, and excellent at deductive reasoning. If this kind of career sounds rewarding and exciting to you, learn everything you need to know about how to pursue the career of an Ohio private investigator.
Ohio Private Investigator License Requirements
Ohio requires all those wishing to serve as a private eye to become licensed by the state. This requires specific training, experience, examination, and background check requirements as well as the right insurance and bonding. It's not an easy path, but it's one that can be rewarding in the end.
Minimum requirements
Age: Fulfilling requirements for licensure will see applicants being at least 21 years of age in most cases.
Provisional Requirements: Provisional licenses aren't necessary or available in Ohio.
Criminal Background Check: Applicants must be free of violent crimes, felonies, sexual offenses or other crimes involving moral turpitude.
Military Discharge: Military discharge doesn't come into play in Ohio licensing.
Financial History: There are no financial background checks.
Mental Health Evaluation: Mental competence to hold licensure is required.
Insurance Needed: Businesses must be bonded for $100,000 per investigator, plus $100,000 in property damage liability and carry $300,000 in bodily injury insurance.
Automatic Disqualifications: Criminal offenses or mental incompetence will disqualify an applicant.
Find schools and get information on the program that's
right for you.
(It's fast and free!)
Featured Schools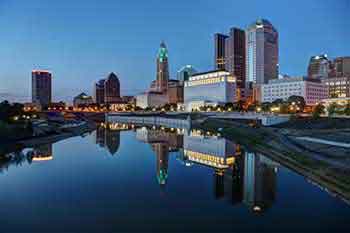 Education and Experience
Degree : An associate's or bachelor's degree in criminal justice or law enforcement is required.
Experience: 4,000 hours of practical work experience in an investigative job is required over the course of two years. Work in law enforcement or as a peace officer for two years can substitute.
Written Exams: The state exam is 75 questions and a score of 80% is the minimum to pass.
Training Courses: Besides an associate's degree and experience, no specific training is required.
Discover online private investigator programs in Ohio that are a match for you!
Forms Needed for a Private Detective License in Ohio
Fees required: A licensing fee of $375, plus an examination fee of $25 and any fingerprinting fees.
Registration needed: Your application requires a current photograph, five character references, fingerprint cards, and evidence of meeting all basic requirements including proof of insurance, proof of experience and college transcripts.
Maintaining Your PI License: Your license will need to be renewed every two years.
Ohio Private Investigator Salary
Government labor statistics show 1,120 PIs licensed and employed in Ohio, with a salary on average of $43,430 per year. There is a projected 4.8% increase in the field by 2024, which is around the national average.
Helpful Ohio Links and Resources
License & Qualifying Agent User Guide
Ohio Association of Security and Investigation Services
Ohio Laws and Rules for Private Investigators
Private Investigator Programs and Schools in Ohio
Get Your Degree!
Find schools and get information on the program that's right for you.
(It's fast and free!)
Choose your area of study and receive free information about programs you are interested in. Private investigators are used by law firms, law enforcement, insurance companies, as well as individuals to conduct investigations to build criminal and civil cases. A degree related to criminal justice could benefit an aspiring private investigator greatly. Request information from multiple schools to find the best program and educational opportunity for you!