If you're looking for a rewarding career in Massachusetts, you should consider becoming a private investigator. Private investigators, which this state also refers to as private detectives, gather information for their clients by using investigative techniques. A private investigator will routinely research fraud, infidelity and can even track fugitives.
The primary requirement for becoming a private investigator in Massachusetts is possessing a business certificate for a private detective agency. However, there are several other steps that you must follow if you want to be licensed in Massachusetts for investigative work, including acquiring a certain amount of work experience.
Massachusetts Private Investigator License Requirements
Minimum Requirements
Age: Legal adults are eligible to become private investigators in the state of Massachusetts.
Provisional Requirements: You must include in your application three letters of certification from people who know you and live in the same community where you live or work. These letters cannot come from anyone who is related to you by blood or marriage. Massachusetts also requires that you possess a business license for a private detective business.
Criminal Background Check: You will need to sign an Authorization for Release of Information form so that the Massachusetts State Police can perform a background check. If you have been convicted of a felony, you are disqualified from working as a private detective in Massachusetts.
Discharge from Military: Massachusetts does not restrict citizens with dishonorable military discharges from becoming private detectives.
Financial History: Your financial history is not a factor in becoming a private detective in this state.
Insurance: You will need a $5000 surety bond in order to be licensed as a private investigator.
Mental Health Check: A mental health check is not required during the application process.
Automatic Disqualifications: In addition to felony convictions, you cannot have been convicted of a section 99 or 99A violation if you want to work as a private detective in this state.
Find schools and get information on the program that's
right for you.
(It's fast and free!)
Featured Schools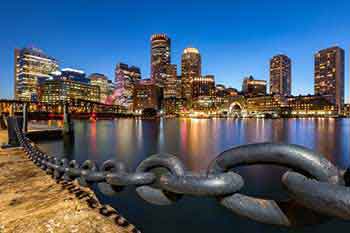 Education and Experience
Degree and/or Accepted Experience: Although Massachusetts does not have any degree requirements, there are very strict experience requirements for being a private investigator. You must have three years of investigative experience, been a member of a US investigative service, were a police officer at a higher rank than a patrolman or are a retired police officer who is in good standing and has ten years of police experience.
Written Exams: Massachusetts does not have a written exam for private detectives or investigators.
Massachusetts Private Investigator Training
The Massachusetts State Police does not certify training courses for those seeking a private investigator career. However, in order to increase your chances of success, it is a good idea to earn a degree in a field related to private investigation. This can include becoming trained as a police officer or completing degrees in law, criminal justice or investigation.
Discover online private investigator programs in Massachusetts that are a match for you!
Forms Needed for a Private Detective License in Massachusetts
Fees: Massachusetts requires a $550 licensing fee that must be paid before you will receive your license.
Registration: Submit your application to the Massachusetts State Police and include your letters of recommendation, proof of experience, a notarized form authorizing a background check, a bond form, your $5000 bond and a Certificate of Business issued from the town hall where your agency will be located.
Maintenance: Massachusetts private investigator licenses will need to be periodically renewed.
Massachusetts Private Investigator Salary
In May of 2015, the Bureau of Labor Statistics reported that there were 1,600 private investigators employed in Massachusetts. If you're employed as a private investigator in this state, you can expect an average yearly salary of $47,620.
Links for Massachusetts Private Investigators
Licensed Private Detectives Association of Massachusetts
Massachusetts State Police Certification Portal
Bureau of Labor Statistics Career Outlook
Private Investigator Programs and Schools in Massachusetts
Get Your Degree!
Find schools and get information on the program that's right for you.
(It's fast and free!)
Choose your area of study and receive free information about programs you are interested in. Private investigators are used by law firms, law enforcement, insurance companies, as well as individuals to conduct investigations to build criminal and civil cases. A degree related to criminal justice could benefit an aspiring private investigator greatly. Request information from multiple schools to find the best program and educational opportunity for you!