Private investigation is one of the most interesting careers that there is. At the direction of their client, private investigators will seek out the needed information and can perform such duties as background checks, fugitive tracking, and fraud investigation. In Maryland, private investigators are referred to as private detectives.
While some private detectives in Maryland decide to become registered as a private detective agency, the majority choose the private detective certification, which is easier to achieve and allows you to become employed in private detective agencies. If you want to become a private detective in Maryland, learning the steps to certification should be your primary concern.
Maryland Private Investigator License Requirements
Minimum Requirements
Age: Legal adults can be certified as private detectives in Maryland.
Provisional Requirements: No provisional certifications exist in Maryland.
Criminal Background Check: You will have to submit to a criminal background check before becoming a private detective in Maryland.
Discharge from Military: Those with dishonorable discharges can still become Maryland private detectives.
Financial: Your financial history is not taken into account for certification.
Mental Health Check: The mental health history for applicants will be examined. If you have ever been confined to a mental health institution, you will need to provide a certificate from a physician indicate you are not a danger to yourself or others.
Insurance Needed: No insurance necessary for private detectives employed by a detective agency.
Automatic Disqualifications: Anyone who has committed violent offenses, been convicted of a felony, is a habitual user of drugs or alcohol, is a fugitive or has committed a crime related to private investigation is automatically disqualified from working as a private detective in Maine.
Find schools and get information on the program that's
right for you.
(It's fast and free!)
Featured Schools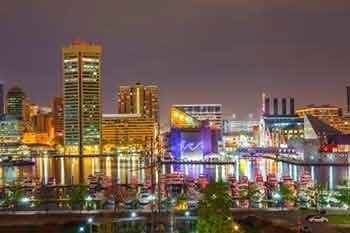 Education and Experience
Degree and/or Accepted Experience: For private detectives who are employed by private detective agencies, there is no degree or work experience mandated by the Maryland State police. However, earning a degree related to investigation and acquiring work experience can be a boon to your career.
Written Exams: Maryland has no exam for private detectives working in detective agencies.
Maryland Private Investigator Training
If you are applying for a private detective certification, there are no specific training courses you required. It is a good idea, however, to earn at least an associate's degree in areas like criminal justice, investigative techniques, forensics and law. Additionally, you could choose to take training courses offered by the Maryland Police Training Commission or the Maryland Fire-Rescue Education and Training Commission.
Discover online private investigator programs in Maryland that are a match for you!
Forms Needed for a Private Detective License in Maryland
Fees: Applications to become a certified private detective cost $15. In addition, you will need to pay $37.25 for a background check. Many private detectives apply for a handgun permit at the same time as their private detective license, which costs $75.
Registration Needed: You will fill out and submit the Multiple Licensing Application with the Maryland State Police. The application should include a set of fingerprint cards, two recent photos of yourself and all applicable fees. You will also need to list the agency you plan to work for if licensed. Generally, your application will be reviewed and approved within 90 days.
Maintenance Required: Private detective certifications in Maryland are only valid for three years. After this period, you will need to renew. Renewal costs $10 and requires a new fingerprint check.
Maryland Private Investigator Salary
According to the data provided by the Bureau of Labor Statistics, there were 670 private investigators working in Maryland as of 2015. Private investigators in this state can expect to make an average yearly salary of $52,540. With a projected nationwide growth of 5% between the years 2014 and 2024, private investigation is an enticing career that almost anyone should consider.
Links for Maryland Private Detectives
Private Investigator Programs and Schools in Maryland

Get Your Degree!

Find schools and get information on the program that's right for you.
(It's fast and free!)

Choose your area of study and receive free information about programs you are interested in. Private investigators are used by law firms, law enforcement, insurance companies, as well as individuals to conduct investigations to build criminal and civil cases. A degree related to criminal justice could benefit an aspiring private investigator greatly. Request information from multiple schools to find the best program and educational opportunity for you!