According to recent data from the Bureau of Labor Statistics, the private detective and investigator employment field is expected to grow by five percent until the year 2024. As more and more cybercrimes and scams are taking place in the digital age, the demand for legal services like private investigators has increased.
If you're a Louisiana resident interested in becoming a licensed private investigator, there are certain requirements you must complete. Based on your experience and ability to meet these requirements, you could soon be on your way to working in this high-demand industry.
How to Become a Private Investigator in Louisiana
Minimum Requirements
Age: The legal age to work as a P.I. in Louisiana is 18.
Criminal Background Check: Applicants must complete a criminal background check upon submitting an application. If you have felony or misdemeanor convictions within the last 10 years, you will not be qualified for P.I. licensure.
Louisiana State Board of Private Investigator Examiners (LSBPIE) Regulations: The LSBPIE requires that corporations seeking licensure must meet all law requirements to be qualified to operate in the state. Additionally, the LSBPIE may request an interview or additional information in order to ascertain whether an applicant meets the necessary qualifications.
Mental Health Check: Candidates must not be adjudicated of mental incompetency.
Insurance Needed: There are no current insurance requirements.
Automatic Disqualifiers: No proof of U.S. citizenship or resident alien documentation; evidence of drug or alcohol addiction or abuse; certain mental deficiencies or diseases which cause impairments.
Find schools and get information on the program that's
right for you.
(It's fast and free!)
Featured Schools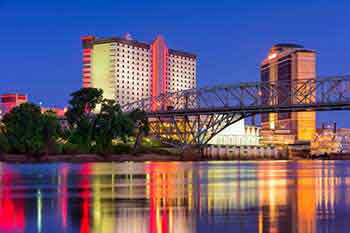 Education and Experience
Degree: A post-secondary degree is not required to become a private detective in Louisiana.
Accepted Experience: For agencies seeking licensure, at least three years of experience working in an investigative capacity within the last ten years is required.
Written Exams: Applicants must pass a Board-administered exam with a score of 75 percent or higher.
Louisiana Private Investigator Training
The LSBPIE requires aspiring applicants to complete an approved 40-hour course. These training classes will educate candidates on the job requirements and state laws, as well as how to properly handle evidence.
Discover online private investigator programs in Louisiana that are a match for you!
Forms Needed for a Private Detective License in Louisiana
Fees Required: The written exam requires a $50 fee. Additionally, the different classifications of licensure will have fees as follows: $192.50 for the Apprentice and Individual Licenses, and $342.50 for the Journeyman and Agency Renewal fees of $100 for individual licenses and $250 for journeyman and agency licenses are also required.
Maintenance Required for PI License: License renewal must be completed prior to the expiration date. Renewal fees are also due with the application in order to continue your practice as an individual private investigator or P.I. agency.
Louisiana Private Investigator Salary and Job Outlook
In Louisiana, private investigators make an average annual wage of $40,940, according to the Bureau of Labor Statistics.
Helpful Louisiana Links and Resources
Louisiana State Board of Private Investigator Examiners
Louisiana Private Investigators Association
Regulations for Private Investigator Licensure in Louisiana
Private Investigator Programs and Schools in Louisiana
Get Your Degree!
Find schools and get information on the program that's right for you.
(It's fast and free!)
Choose your area of study and receive free information about programs you are interested in. Private investigators are used by law firms, law enforcement, insurance companies, as well as individuals to conduct investigations to build criminal and civil cases. A degree related to criminal justice could benefit an aspiring private investigator greatly. Request information from multiple schools to find the best program and educational opportunity for you!