If you're looking for a career where you can work in many different environments away from a desk, then being a private investigator might be for you. This occupation involves working in the field, conducting surveillance and interviews, and gathering information that can be used to solve cases of a personal or legal nature.
To be licensed in this field of work, Kentucky has several initial and secondary requirements. We've compiled an outline regarding what you need to do in order to join this exciting and rewarding industry. Read on to find out how to become a private investigator in Kentucky.
Kentucky Private Investigator License Requirements
Minimum Requirements
Age: The minimum age requirement in the state is 21.
Provisional Requirements: Enrollment in a program for substance abuse within the last three years will disqualify you from applying.
Criminal Background Check: Upon applying to be a private detective in Kentucky, you will be asked to complete a criminal background check. This will reveal whether or not you have been convicted of a felony in the last ten years or of crimes involving moral depravity or dishonesty within the last five. Either of the two will prevent you from obtaining licensure.
Mental Health Check: A mental health check ensures that you are of sound mental capacity to perform the essential functions of a P.I.
Insurance Needed: There are no liability insurance requirements in the state of Kentucky.
Automatic Disqualifiers: Not a U.S. citizen; no high school diploma or GED; use of illegal drugs or history of alcohol abuse; lack of good moral character.
Find schools and get information on the program that's
right for you.
(It's fast and free!)
Featured Schools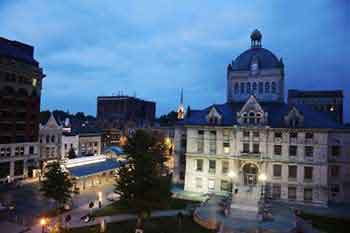 Education and Experience
Degree: In Kentucky a high school diploma or its equivalent is the only educational requirement to become a private investigator. If you have pursued a degree in criminal justice, law enforcement or another similar field, this will improve your chances of ideal placement in the field.
Accepted Experience: Work for a licensed private investigation company in the state will qualify as valid experience, however it is not required.
Written Exams: After Board approval, you can schedule an examination to obtain an official license. To prepare for the exam, it is recommended that you study the Kentucky Revised Statutes and Administrative Regulations
Discover online private investigator programs in Kentucky that are a match for you!
Forms Needed for a Private Detective License in Kentucky
Kentucky Private Investigator Salary and Job Outlook
2015 data from the Bureau of Labor Statistics reports that Kentucky private investigators make a yearly mean wage of $49,070.
Helpful Kentucky Links and Resources
Kentucky Professional Investigators Association
Application Forms from the Board of Licensure for Private Investigators
Public Protection Cabinet Office of Occupations and Professions
Private Investigator Programs and Schools in Kentucky
Get Your Degree!
Find schools and get information on the program that's right for you.
(It's fast and free!)
Choose your area of study and receive free information about programs you are interested in. Private investigators are used by law firms, law enforcement, insurance companies, as well as individuals to conduct investigations to build criminal and civil cases. A degree related to criminal justice could benefit an aspiring private investigator greatly. Request information from multiple schools to find the best program and educational opportunity for you!