According to the Bureau of Labor Statistics, employment is expected to grow by five percent until the year 2024 for private investigators. Demand for private detectives in Indiana will likely be for entry-level positions, making now the perfect time to get started in this rewarding industry.
A career as a private investigator involves a variety of duties. Businesses may hire you to perform background checks on potential employees or to identify sources of cyber attacks and spam. Or, an individual might use your services to prove infidelity in a divorce case.
If you are interested in joining the private investigator workforce in Indiana, take a moment to read about the state's requirements below.
Indiana Private Investigator License Requirements
Minimum Requirements
Age: Indiana requires applicants to be at least 21 years of age.
Criminal Background Check: A criminal background check will be carried out to ensure that applicants are not on probation or parole. You must not have any criminal convictions that would directly impact your ability to work as a private investigator.
Military History: Those with dishonorable discharge or fines from the military will often not be qualified to work as a private investigator.
Mental Health Check: Applicants who have been formally judged as a danger to themselves and others will not be qualified to become a P.I. in Indiana.
Insurance Needed: The state mandates that private investigators possess professional liability insurance of, at minimum, $100,000. The state of Indiana must also be listed as an additional insured party.
Automatic Disqualifiers: Under 21 years of age; not a legal U.S. citizen; under two years of experience in the field; convicted of practicing as a private investigator without proper licensure.
Find schools and get information on the program that's
right for you.
(It's fast and free!)
Featured Schools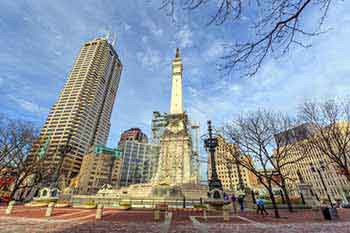 Education and Experience
Degree: To meet the experience requirement, applicants may have a degree in criminal justice from an accredited four-year institution.
Accepted Experience: Candidates must have at least two years or 4,000 hours of experience in order to be considered for a private investigator position. This may be achieved by working under a licensed P.I. in Indiana or by working in a security field.
Written Exams: There are currently no written exams for private detective work in the state of Indiana.
Discover online private investigator programs in Indiana that are a match for you!
Indiana Private Investigator Training
There are no required training courses in the state, however Indiana's Association of Professional Investigators' Code of Ethics does urge detectives to take advantage of training opportunities when possible.
Forms Needed for a Private Detective License in Indiana
Fees Required: The P.I. application in Indiana must include a fee of $300. There may also be fees for fingerprint documentation. If you are renewing your license, the fee is $150.
Required Information: Fingerprints, proof of liability insurance, out-of-state licensure verification and academic transcripts.
Maintenance Required for PI License: You must renew your Indiana license every four years.
Indiana Private Investigator Salary and Job Outlook
The Bureau of Labor Statistics does not have data regarding the annual mean wage for private investigators in Indiana. However the national average is $52,840.
Helpful Indiana Links and Resources
Indiana Professional Licensing Agency
Indiana Association of Professional Investigators
Approved Fingerprint-Based Background Check
Private Investigator Programs and Schools in Indiana
Get Your Degree!
Find schools and get information on the program that's right for you.
(It's fast and free!)
Choose your area of study and receive free information about programs you are interested in. Private investigators are used by law firms, law enforcement, insurance companies, as well as individuals to conduct investigations to build criminal and civil cases. A degree related to criminal justice could benefit an aspiring private investigator greatly. Request information from multiple schools to find the best program and educational opportunity for you!