Working as a private investigator offers an exciting opportunity to serve your Illinois community in matters of a legal, financial, or personal nature. A private detective or investigator works without police authority to investigate cases, gather evidence to be used in court, perform background checks for employers, and obtain needed information.
To be successful in this field, an in-depth understanding of local, state and federal laws is necessary. This will ensure that all collected evidence may be used in a court of law. Private investigators in Illinois must have a license in order to work as a private investigator. Qualification requires a combination of experience and education, which we've outlined below.
Illinois Private Investigator License Requirements
Minimum Requirements
Age: In Illinois, you must be at least 21 years old.
Criminal Background Check: You must pass a criminal background check which proves that you have not been convicted of a felony or that at least ten years have passed since the completion of your sentence.
Personal History: Your personal history must indicate that you are of good moral character.
Military History: Applicants should not have been dishonorably discharged from the military or another U.S. law enforcement agency.
Mental Health Check: Qualified private investigators in Illinois will be psychologically fit to fulfill the job's required duties.
Automatic Disqualifiers: You are not a U.S. citizen; you have a history of drug or alcohol addiction; you are a registered sex offender; you have no experience.
Find schools and get information on the program that's
right for you.
(It's fast and free!)
Featured Schools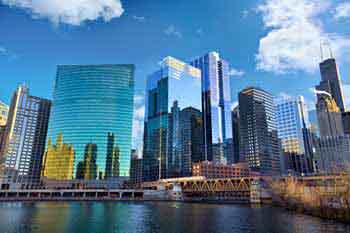 Education and Experience
Accepted Experience: According to Section 15-10(a)(6) of the Private Detective Act of 2004, private detectives are qualified for licensure in the state of Illinois if they have completed three years of experience working for a licensed P.I. or agency. This three years of experience must be completed in the five years prior to application. One year may be completed through a military training program in a relevant field such as law enforcement.
Degree: Applicants may fulfill two of the three required experience years by completing a bachelor's degree or higher in law enforcement or a related field or a business degree. Those with an associate's degree in the above fields will fulfill one year of the experience requirement.
Written Exams: The Illinois Class A Private Detective exam is usually offered twice a year. It will cover subjects such as federal and state law, how to collect and evaluate evidence, case management and safety practices. A licensure application will be sent upon receiving a passing exam score.
Discover online private investigator programs in Illinois that are a match for you!
Illinois Private Investigator Training
Within 30 days of employment, private investigators in Illinois must complete 20 hours of training by a qualified instructor. A certificate or other proof of your training should accompany your application. Once the form is added to your permanent record, you will not be required to repeat the course.
Forms Needed for a Private Detective License in Illinois
Fees Required: Exam fees for the Illinois Class A Private Detective test total $298. The state will also likely require a fee for fingerprints.
Required Forms: All necessary documents are outlined on the Illinois private investigator application form.
Maintenance Required for PI License: Some employers and agencies may require continued training or education, however it is not mandated by the state.
Illinois Private Investigator Salary and Job Outlook
The average yearly wage for private investigators and detectives in the state of Illinois is $46,840, according to 2015 data by the Bureau of Labor Statistics.
Helpful Illinois Links and Resources
Illinois Department of Financial & Professional Regulation
Study Guide for the Illinois Private Investigator Written Exam
Occupational Outlook Handbook for Private Investigators
Private Investigator Programs and Schools in Illinois
Get Your Degree!
Find schools and get information on the program that's right for you.
(It's fast and free!)
Choose your area of study and receive free information about programs you are interested in. Private investigators are used by law firms, law enforcement, insurance companies, as well as individuals to conduct investigations to build criminal and civil cases. A degree related to criminal justice could benefit an aspiring private investigator greatly. Request information from multiple schools to find the best program and educational opportunity for you!