Private investigators or private detectives can offer much-needed help to attorneys, businesses and individuals looking for answers. The job of a private investigator in Idaho is extremely varied. The duties may include interviewing people for information, uncovering clues through surveillance or public records, going undercover or simply conducting background checks. No matter the job, private detectives are a valuable tool in investigative matters.
In the state of Idaho, there are no current licensing requirements to begin work as a private investigator. However, it is highly recommended that you go through optional training or education in order to be successful. Continue reading to learn more about becoming a private investigator in Idaho.
Find schools and get information on the program that's
right for you.
(It's fast and free!)
Idaho Private Investigator License Requirements
Minimum Requirements
Age: Private investigators in Idaho should be at least 18 years old.
Provisional Requirements: The only statewide requirement for private investigators is to obtain a business license.
Criminal Background Check: As with most investigative jobs, private detectives seeking work with an Idaho agency will likely be subject to a background check. This will ensure that you are fit to handle the sensitive matters related to the position.
Discharge from Military: Depending on the agency, a record of being fined or discharged from the military will bar you from being hired as a private investigator.
Financial History: A clean, honest financial history will improve your chances of becoming an Idaho P.I.
Mental Health Check: Additionally, you must not have a history of placing yourself or others in danger.
Automatic Disqualifiers: Although there are no license requirements in the state, most agencies will automatically disqualify candidates with criminal convictions, no experience or disabilities that render them incapable of performing the job's central functions. You must also be a legal citizen of the United States.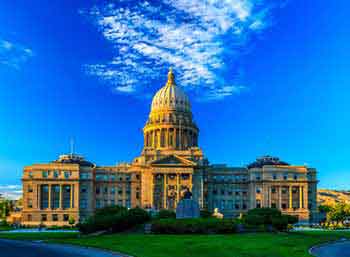 Education and Experience
Degree: Education beyond a high school diploma is not mandatory. However, post-secondary education is a great way to gain valuable experience that will help make your job easier. Degrees in law enforcement, criminology or other related fields are all valid options.
Accepted Experience: Conducting business as a private investigator in Idaho requires a business license. To make yourself more reputable and improve your chances of licensure, general training is strongly recommended.
Written Exams: If you choose to become a nationally certified private investigator, there is a required 65-question examination.
Forms Needed for a Private Detective License in Idaho
Fees Required: If you wish to participate in the national Certified Private Investigator program, the two year certification fee is $200 for non-Private Investigators Association of Idaho members and $150 for members. For renewal, non-members will be charged $125 and members will owe $75.
Maintenance Required for PI License: The national program requires 30 hours of continuing education every two years.
Idaho Private Investigator Salary and Job Outlook
The Bureau of Labor Statistics reported in 2015 that private investigators in Idaho earned a yearly salary of $45,810.
Helpful Idaho Links and Resources
Office of the Secretary of State of Idaho
Idaho Business Registration System
Private Investigator Association of Idaho
Private Investigator Programs and Schools in Idaho
Get Your Degree!
Find schools and get information on the program that's right for you.
(It's fast and free!)
Choose your area of study and receive free information about programs you are interested in. Private investigators are used by law firms, law enforcement, insurance companies, as well as individuals to conduct investigations to build criminal and civil cases. A degree related to criminal justice could benefit an aspiring private investigator greatly. Request information from multiple schools to find the best program and educational opportunity for you!