Private investigators and detectives perform services for individuals, businesses, and attorneys such as conducting background checks, verifying statements, proving infidelity, or even finding missing persons. They may go undercover, use surveillance measures and conduct investigative research to resolve cases and gather evidence.
This line of work is extremely valuable to individuals and businesses searching for answers in regards to financial, legal, and personal matters. If you are interested in becoming a private investigator in Georgia, you must first obtain a license. We'll outline how you can make your start in this exciting and rewarding field.
Georgia Private Investigator License Requirements
Minimum Requirements
Age: To be eligible to work as a private investigator, applicants must be at least 18 years of age.
Provisional Requirements: In Georgia, licenses are only issued to companies. If you are a partner, owner, or officer of a private investigative company, then you may hold the company license. Those wishing to work for an existing company must meet the official Georgia requirements outlined in Article 43-38-7 of the OCGA.
Criminal Background Check: A criminal background check is required upon application. You must not have a history of personal or domestic violence and you should not be convicted of any crimes.
Mental Health Check: If you are considered dangerous to yourself and others or are formally judged as mentally incompetent, you will not be qualified to work as a private investigator.
Automatic Disqualifiers: You are not a U.S. citizen; you have committed a crime involving illegal weapon use; you have been convicted of a felony; you are on parole; you have a physical disability which hinders you from performing essential job functions, even with reasonable accommodation; you have practiced private investigation without a Georgia license.
Find schools and get information on the program that's
right for you.
(It's fast and free!)
Featured Schools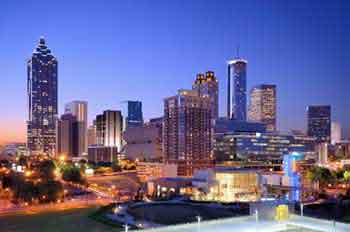 Education and Experience
Degree: A four-year degree in criminal justice or a related field from an accredited university will meet any Georgia P.I. education requirements.
Accepted Experience: In order to qualify as a private investigator, two years of experience in law enforcement or for a licensed private detective company is necessary.
Written Exams: All applicants must pass an exam to work as a P.I. in Georgia.
Georgia Private Investigator Training
Training Courses
Georgia applicants must also complete a 70-hours basic training course which covers the history of the industry and information regarding criminal law, surveillance and investigation. This can be completed within six months of being hired.
Discover online private investigator programs in Georgia that are a match for you!
Forms Needed for a Private Detective License in Georgia
Fees Required: There will be fees of $52 to $60 for a digital fingerprint scan. Additionally, the state charges a $70 fee when you mail your application to the Georgia Board of Private Detectives & Security Agencies.
Forms Needed: You are expected to submit proof of residency and citizenship, weapons certifications and permits and proof that you've completed the required certification classes.
Maintenance Required for PI License: Georgia private investigators should complete 16 hours of continuing education requirements each year.
Georgia Private Investigator Salary and Job Outlook
On average, Georgia private detectives and investigators make a yearly wage of $42,749.
Helpful Georgia Links and Resources
Georgia Association of Professional Private Investigators
Georgia Board of Private Detectives & Security Agencies
Private Investigator Programs and Schools in Georgia
Get Your Degree!
Find schools and get information on the program that's right for you.
(It's fast and free!)
Choose your area of study and receive free information about programs you are interested in. Private investigators are used by law firms, law enforcement, insurance companies, as well as individuals to conduct investigations to build criminal and civil cases. A degree related to criminal justice could benefit an aspiring private investigator greatly. Request information from multiple schools to find the best program and educational opportunity for you!