On the whole, employment for private detectives and investigators is expected to grow by 5 percent until the year 2024. The growing prevalence of internet-related scams has boosted the demand for these professionals, making it an exciting time to become a private investigator in Florida.
Each state has their own legal requirements to become a private investigator. For instance, in Florida you are required to be licensed. Below, we'll outline what you need to do in order to join this growing field and make a difference in the lives of others.
Florida Private Investigator License Requirements
Minimum Requirements
Age: You must be at least 18 years of age.
Criminal Background Check: The application requires a record of your criminal history, if any. You may also be subject to a background check.
Military History: If you have been discharged, fined or disciplined in any way while in the military, you must report this on your application.
Mental Health Check: You must disclose all mental disorders upon application.
Automatic Disqualifiers: You are not a U.S. citizen or legal resident; you have been convicted of a felony; you are mentally or physically incapable of performing essential job functions; you have been convicted of acting as a P.I. without a license.
Find schools and get information on the program that's
right for you.
(It's fast and free!)
Featured Schools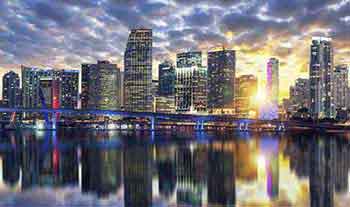 Education and Experience
Accepted Experience: You must meet a two-year experience requirement in order to apply for a Class "C" private investigator license in Florida. This may be fulfilled if you've work in related fields like law enforcement or the military, or if you've completed a Class "CC" internship at an approved private investigative agency. Law enforcement-related training may account for one year of the two that are required.
Degree: One year of the required experience may also come from college studies in criminology, criminal justice, law enforcement administration, or other relevant subjects.
Written Exams: A written exam covering Florida law that directly relates to the legal responsibilities of private investigators and the business practices in the industry is required. You must pass the exam before submitting an application.
Discover online private investigator programs in Florida that are a match for you!
Florida Private Investigator Training
One hour of your two-hour experience requirement may be awarded after the completion of law enforcement related training. This can be acquired through a state, county or municipal agency in Florida, or through a federal training program.
Forms Needed for a Private Detective License in Florida
Fees Required: There is a $50 application fee, $42 fingerprint processing fee and $75 license fee. The Florida private investigator exam fee is $100.
Required Forms: Your application will include verification of your SSN, citizenship status, permanent address, training, military, criminal and personal history, alias information, proof of a passing exam, photograph of yourself and a fingerprint card. If you are upgrading from the Class "CC" intern license, you will also need a sponsorship letter.
Maintenance Required: Your P.I. license will be valid for two years, after which you will need to complete a renewal application form.
Florida Private Investigator Salary and Job Outlook
According to the Bureau of Labor Statistics, private detectives and investigators make an annual average of $45,240.
Helpful Florida Links and Resources
Florida's Division of Licensing
Florida Association of Licensed Investigators
Florida Association of Private Investigators
Private Investigator Programs and Schools in Florida
Get Your Degree!
Find schools and get information on the program that's right for you.
(It's fast and free!)
Choose your area of study and receive free information about programs you are interested in. Private investigators are used by law firms, law enforcement, insurance companies, as well as individuals to conduct investigations to build criminal and civil cases. A degree related to criminal justice could benefit an aspiring private investigator greatly. Request information from multiple schools to find the best program and educational opportunity for you!