Private Detectives in Connecticut, also known as PIs or Private Investigators, perform a range of various investigative services for private individuals, law firms, police departments and organizations of every shape and size. These Connecticut professional investigators might conduct background checks or help law enforcement track down and recover fugitives from justice. They might investigate computer crimes, or even cases of marital infidelity.
One thing that is certain, the career is both rewarding and ever-changing. Here are the qualifications and requirements for becoming a Connecticut PI.
Connecticut Private Investigator License Requirements
When looking into how to become a private investigator in Connecticut, the state requires anyone who wishes to operate as a PI to be licensed by the Commissioner of Emergency Services and Public Protection. Becoming a PI in this state requires you to be of good character, solid morals, and fulfill certain experience, background and interview requirements as well as being fully bonded.
Find schools and get information on the program that's
right for you.
(It's fast and free!)
Featured Schools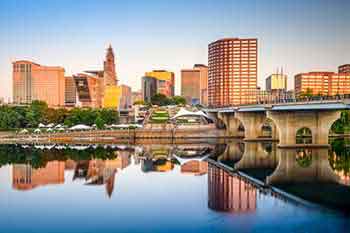 Minimum requirements
Age: You will have to be, at minimum, 25 years of age.
Provisional Requirements: PIs in Connecticut cannot get provisional licensure.
Criminal Background Check: You may not have any felonies, any of a number of specific misdemeanor offenses, or moral-related crimes.
Military Discharge: Any military discharge must've been honorable in nature.
Financial History: You must be able to secure proper bonding, which requires a solid financial background.
Mental Health Evaluation: You must be deemed mentally sound to hold licensure.
Insurance Needed: You will need a total of $400,000 in bonds: $100,000 as a state surety bond, and a $300,000 insurance policy for general liability.
Automatic Disqualifications: criminal convictions, dishonorable discharge or inability to be bonded may disqualify you for licensure.
Discover online private investigator programs in Connecticut that are a match for you!
Education and Experience
Degree: You'll need, at minimum, a GED or high school diploma.
Experience: At least 5 years of experience is required for Connecticut PIs working as a full-time licensed private detective, registered private investigator, running a detective agency, working for any law enforcement agency, or related approved investigative experience. Alternately 10 years of experience as a police officer will substitute.
Oral Interview: After filing your application, you will have to complete an oral interview before obtaining final licensure.
Training Courses: Completion of an authorized training course applicable to the license, such as private investigations certificates programs, can substitute for one year of experience.
Forms Needed for a Private Detective License in Connecticut
Fees required: Fingerprinting will cost $50 for state and $12 for FBI. Your private detective license carries a $1,450 fee, or $1,750 if a corporation.
Registration: Your application package must include two photographs at 2 inches by 2 inches, fingerprint cards, your driving record for the past 3 years, your current driver's license, military discharge records (if any), four letters of reference, recent credit bureau report, school transcripts, proof of citizenship or INS green card, letter of discharge from law enforcement (if any), proof of experience, proof of incorporation (for corporate licensure), letter from psychiatric care provider (if any), and proof of firearms licensure (if required).
Maintaining Your PI License: Your license is good for two years, and renewal costs $625.
Connecticut Private Investigator Salary and Job Outlook
The United States BLS maintains salary and outlook figures for PIs in Connecticut. Currently as of 2015 there are 270 licensed PIs in the state, making on average, $58,370 per year. The job is expected to remain relatively stable over the next ten years.
Helpful Connecticut Links and Resources
General Statutes for Connecticut PIs
Connecticut Association of Licensed Private Investigators
Private Investigator Programs and Schools in Connecticut
Get Your Degree!
Find schools and get information on the program that's right for you.
(It's fast and free!)
Choose your area of study and receive free information about programs you are interested in. Private investigators are used by law firms, law enforcement, insurance companies, as well as individuals to conduct investigations to build criminal and civil cases. A degree related to criminal justice could benefit an aspiring private investigator greatly. Request information from multiple schools to find the best program and educational opportunity for you!