California may just be the most glamorous state in which to work as a P.I. After all, it's the home of the classic noir novels and stories of authors like Raymond Chandler. Of course, the real work of a private detective is often not glamorous, but it can be exciting and rewarding.
From tracking down fugitives to finding missing persons, to investigating infidelity allegations, even helping law enforcement research computer crimes or conducting background checks, there's always something new for PIs. This page will outline the steps to become a licensed investigator in California.
California Private Investigator License Requirements
When studying how to become a private investigator in California, the state does require licensure by the state's Department of Consumer Affairs, under the auspices of the Bureau of Security and Investigative Services. Licensure requires a specific set of requirements including age, background checks, examinations and and experience under a licensed PI.
Find schools and get information on the program that's
right for you.
(It's fast and free!)
Featured Schools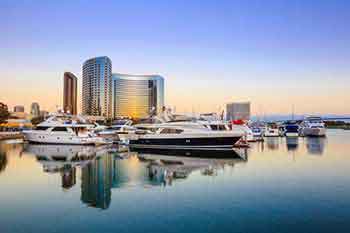 Minimum requirements
Age: You must be 18 to be a California PI.
Provisional Requirements: There is no provisional licensure in California.
Criminal Background Check: You must submit to a criminal history fingerprint check to prove you have no criminal convictions.
Military Discharge: California does not have stipulations regarding military discharge.
Financial History: There are no California financial history requirements.
Mental Health Evaluation: California doesn't require psychological evaluation.
Insurance Needed: While bonding isn't requisite in California, it can be essential to protect your business against liability. If you carry a firearm, however, you will need separate licensure and a $1 million insurance bond.
Automatic Disqualifications: California doesn't have automatic disqualifications.
Discover online private investigator programs in California that are a match for you!
Education and Experience
Degree: You must complete a law degree, four-year police science degree, or associate's degree in police science, criminal justice or criminal law, plus experience.
Experience: Three years of professional investigative experience are needed if you don't have a degree. With an associate's you'll need 2.5 years' experience, and with a four-year degree, 2 years of experience.
Written Exams: The state has a written exam which is administered by PSI. The state provides a study guide for the exam.
Training Courses: A certificate in private investigations can help to fulfill some of the training requirements.
Forms Needed for a Private Detective License in California
Fees required: Fingerprinting will cost $32 for the DOJ and $17 for FBI printing, in addition to any local scanning fees. There is also a $50 application fee, followed by a $175 fee for licensure after you pass your exam.
Registration needed: Your application packet will include a personal ID form, support of your experience, business name authorization (if any), two photos (passport-sized), and a receipt of your fingerprint scan.
Maintaining Your PI License: Unless you carry a firearm, there are no renewal requirements for a PI license in California.
California Private Investigator Salary and Job Outlook
U.S. Labor Statistics indicate that currently, there are 4,380 licensed private investigators operating in California. On average, they make $55,420 a year. With a 16.4% projected increase over the next several years, this is a great state to put down roots as a PI.
Helpful California Links and Resources
California Private Investigator Fact Sheet
Private Investigators Regulations, Fee Schedules and Information
Private Investigator Application Packet
Private Investigator Programs and Schools in California
Get Your Degree!
Find schools and get information on the program that's right for you.
(It's fast and free!)
Choose your area of study and receive free information about programs you are interested in. Private investigators are used by law firms, law enforcement, insurance companies, as well as individuals to conduct investigations to build criminal and civil cases. A degree related to criminal justice could benefit an aspiring private investigator greatly. Request information from multiple schools to find the best program and educational opportunity for you!