Arkansas is a good state in which to work as a private detective. Also known as private investigators or by the abbreviation P.I., these men and women work hard to perform a broad variety of investigative activities for individuals, companies and law enforcement.
From tracking down fugitives to conducting background checks, from following cheating spouses to finding missing persons, private detectives live an exciting life with a rewarding career. Learn all you need to start on the path to being an Arkansas private investigator.
Arkansas Private Investigator License Requirements
When researching how to become a private investigator Arkansas, you should know that Arkansas requires those wishing to practice as PIs to be licensed. This process involves meeting a series of requirements that include a minimum age, criminal background checks, experience and good character. Licensing is administered by the Arkansas State Police and the state is reciprocal with Tennessee, Oklahoma and Louisiana, meaning your license in one of those states is good in Arkansas as well.
Find schools and get information on the program that's
right for you.
(It's fast and free!)
Featured Schools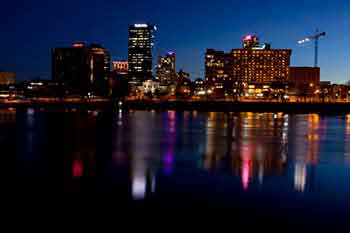 Minimum requirements
Age: All Arkansas P.I.s must be at least 21.
Provisional Requirements: There is no provisional licensing in Arkansas.
Criminal Background Check: Background checks are required to prove you have no convictions related to violence, moral character, or the like.
Military Discharge: If applicable, your discharge must be honorable.
Financial History: There is no financial history requirement in Arkansas.
Mental Health Evaluation: A psych evaluation will demonstrate that you have not been declared mentally incompetent, or that you are clear of such a state.
Insurance Needed: There is no listed bond requirement, though insurance is often a vital protection for private investigators against lawsuits or liability issues.
Automatic Disqualifications: Dishonorable discharge, mental incompetency or criminal convictions can disqualify you from licensure.
Discover online private investigator programs in Arkansas that are a match for you!
Education and Experience
Degree: No degree is necessary, but studies in criminal justice or law enforcement can be extremely helpful.
Experience: Arkansas requires two years of consecutive on-the-job training with a licensed investigations company before you can apply for licensure.
Written Exams: There are no written exam requirements.
Training Courses: While not required, you may consider taking a certificate program for private investigators at a local college or university, to gain the core skill proficiencies you'll need.
Forms Needed for a Private Detective License in Arkansas
Fees required: New licensure carries a $40 fee for an unarmed security officer, $22 for the state background check, $10 for federal background check, plus $3 in additional federal background check fees.
Registration needed: You will need to submit your application with proof of meeting all requirements and all fees to the State Police Regulatory Services.
Maintaining Your PI License: Your license will need to be renewed every two years, and carries the same fees and requirements as your initial application.
Arkansas Private Investigator Salary and Job Outlook
The BLS indicates that 140 Licensed Arkansas private detectives are currently employed in the state, with an annual average wage of $50,050. According to Projections Central, an 8.7% positive increase is expected by 2024.
Helpful Arkansas Links and Resources
Arkansas State Police Licensing Page
New Private Investigator License Application
Private Investigator Programs and Schools in Arkansas
Get Your Degree!
Find schools and get information on the program that's right for you.
(It's fast and free!)
Choose your area of study and receive free information about programs you are interested in. Private investigators are used by law firms, law enforcement, insurance companies, as well as individuals to conduct investigations to build criminal and civil cases. A degree related to criminal justice could benefit an aspiring private investigator greatly. Request information from multiple schools to find the best program and educational opportunity for you!