Private investigators are professionals who specialize in finding information, whether it's for an individual client, a business, or an individual. They can perform duties such as personal security, investigating infidelity, conducting background checks, seeking out fugitives and investigate fraud. Alabama is a great state in which to pursue this career, and here you'll learn all you need to know about becoming a P.I. in Alabama.
Alabama Private Investigator License Requirements
Contrary to claims made on some websites, when researching how to become a private investigator in Alabama, there is a licensing procedure for Alabama private detectives. Alabama has a fairly straightforward process for licensure. You will need to meet certain basic requirements and pass an exam, but the process is fairly step-by-step and is administered by the state's Private Investigation Board.
Minimum Requirements
Age: Alabama PIs must be at least 21 years old.
Provisional Requirements: Alabama has no special provisional requirements.
Criminal Background Check: A criminal background check will be required to make sure you have no Alabama moral turpitude or felony convictions.
Military Discharge: There are no rules regarding military discharge in Alabama.
Financial History: There is no financial history check for Alabama licensure.
Mental Health Evaluation: An Alabama private detective must have not been declared mentally incompetent, unless they have since been declared competent.
Insurance Needed: While insurance is not required to obtain a license, it is vital to operating your business.
Automatic Disqualifications: Criminal convictions of felonies or moral turpitude are a disqualification, as is mental incompetency.
Citizenship: You must be a United States citizen to be a P.I. in Alabama.
Find schools and get information on the program that's
right for you.
(It's fast and free!)
Featured Schools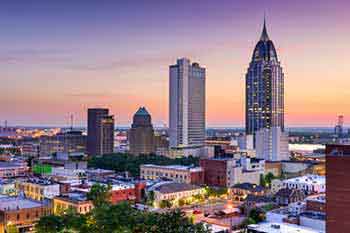 Education and Experience
Degree: There is no degree necessary, but many Alabama private investigators seek education in criminal justice or law enforcement to enhance their skills.
Experience: No experience is necessary to obtain licensure in Alabama.
Written Exams: There is a written examination, which you will take after you submit your application by credential. This exam is administered by PSI.
Training Courses: Many universities and colleges offer certificates or even degree programs in Private Investigation, which can be very helpful in taking your exams. According to the state code, any trainer must be board-certified.
Discover online private investigator programs in Alabama that are a match for you!
Forms Needed for a Private Detective License in Alabama
Fees required: There is a $125 application fee, and a $100 exam fee.
Registration needed: Before you take your exam, you must submit your application with proof of completing the minimum requirements as well as a photograph and three sets of fingerprints and Form 46.
Maintaining Your PI License: Your license is good for two years. Renewal requires 16 hours of continuing ed. from a board-certified training resource, which you will document using a continuing education form, along with a $300 fee. For late renewals there is an additional $200 late fee.
Alabama Private Investigator Salary and Job Outlook
According to the U.S. Bureau of Labor Statistics, there were 190 licensed private investigators working in Alabama in 2015. The average annual mean wage for the career is $65,300. Projections Central sees a 5.5% increase in job openings over the next several years.
Helpful Alabama Links and Resources
State of Alabama Private Investigation Board
U.S. Bureau of Labor Statistics – Private Investigators
Private Investigator Programs and Schools in Alabama
Get Your Degree!
Find schools and get information on the program that's right for you.
(It's fast and free!)
Choose your area of study and receive free information about programs you are interested in. Private investigators are used by law firms, law enforcement, insurance companies, as well as individuals to conduct investigations to build criminal and civil cases. A degree related to criminal justice could benefit an aspiring private investigator greatly. Request information from multiple schools to find the best program and educational opportunity for you!